Tips for using your Library Card
04/28/2021
17:58
admintracy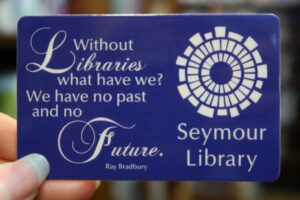 Top ten things that you can do with your library card from home
Did you know that there's a variety of things you can discover for free right now from home with your library card? Here are our top ten picks for what you can do with your library card:
Borrow books! With OverDrive (or the Libby app), you can borrow eBooks and eAudiobooks and get your reading on.
Read a magazine! Check out RBdigital to catch up on some of the most popular magazines including Rolling Stone, Us Weekly and Better Homes and Gardens.
Take a class! Learn about Business and Accounting or Cake Decorating or Ghost Hunting with classes from Universal Class.
Learn an instrument! Interested in the Fine Arts? Try ArtistWorks and learn Guitar, Piano, take art lessons and more.
Stream a movie! Try Kanopy or Hoopla for a variety of great films to stream for free with your library card.
Listen to music! Listen to great songs and top albums right now with Hoopla.
Learn a new language! With Mango Languages you can learn over 70 languages!
Begin your family history research! Use HeritageQuest to look up basic information about your family including census records and Revolutionary War records.
Find your next read! With NoveList, you can explore books and find your next great read with the appeal mixer.
Get help starting a new career! With JobNow you can get help writing your resume, brush up on your interviewing skills or talk to a job coach. Looking to start your own business? Use ReferenceUSA to begin your market research.
But why stop there? There's so much more that you can do with your library card! Check out more on our website or see what's happening in real life at the library!