Building Improvement Plan
Seymour Library strives to be the community's hub for learning and discovery. Not only does this mean offering new resources, technology, and programs to our library users, but also keeping our space up-to-date.
The library opened at 176-178 Genesee Street, in the Case Memorial Building in 1903. Since then it has had two major additions, in 1972 and 1993, when the west lobby (what is now the main lobby) was added with a new accessible entrance.
Over the last five years, the library has renovated our History Discovery Space (2016), and in 2019 construction was completed on the library's new IDEA Lab.
The library is focusing on its next phase of construction, updates to the Historic North Lobby.
Phase Three: North Lobby
Further, updates to lighting, finishes, and furnishings will provide a comfortable experience for library visitors. Library users will experience increased satisfaction and, in turn, create increased usage of the Library as their requests for meeting space, access to new technologies, and other functional improvements are achieved to fulfill the Library's mission.
Description of Project
The North Lobby project is part of the Library's ongoing initiative to provide expanded access to services, programs, and collections to ALL individuals in the chartered-to-serve area. The proposed improvements represent upgrades to areas that have not been significantly renovated in 30-50 years.
Phase Three work includes:
A new fire alarm system
New lighting in the historic areas of the building
New study/office/meeting spaces for patrons
Asbestos abatement in the 2nd Chapter Room
New furnishings & fixtures
Cleaning/restoration of the marble portraits in the North Lobby
Phase Three work in the Walter M. Lowe Reading Room includes new lighting fixtures to increase lighting levels for the visually impaired, and for general comfort. Fixtures will include energy-efficient LED lighting technology, control systems, and occupancy sensors. Ceiling fixtures will also be supplemented with perimeter wall stack-mounted browsing fixtures, matching the historic context of the space.
---
Phase Two: West Lobby
Phase Two is now complete!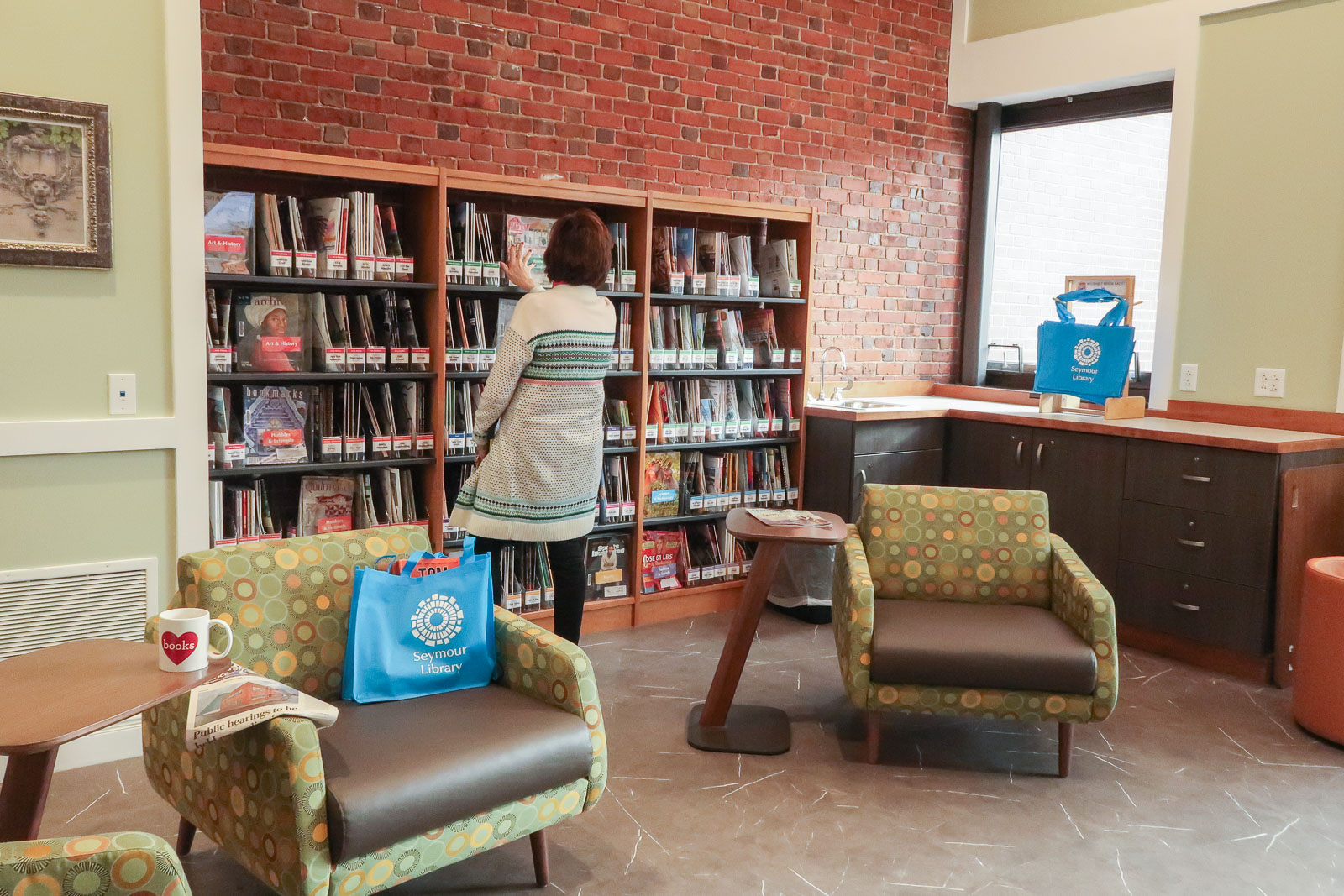 These renovations will improve the functionality of the West Lobby (a 1993 addition) for library users and staff with a new layout, furniture, energy-efficient lighting, and updates to modernize the library's current elevator.
Part of the renovation will include new bay windows that will add cozy reading nooks and study spaces for library customers.
Photo gallery for the West Lobby Renovations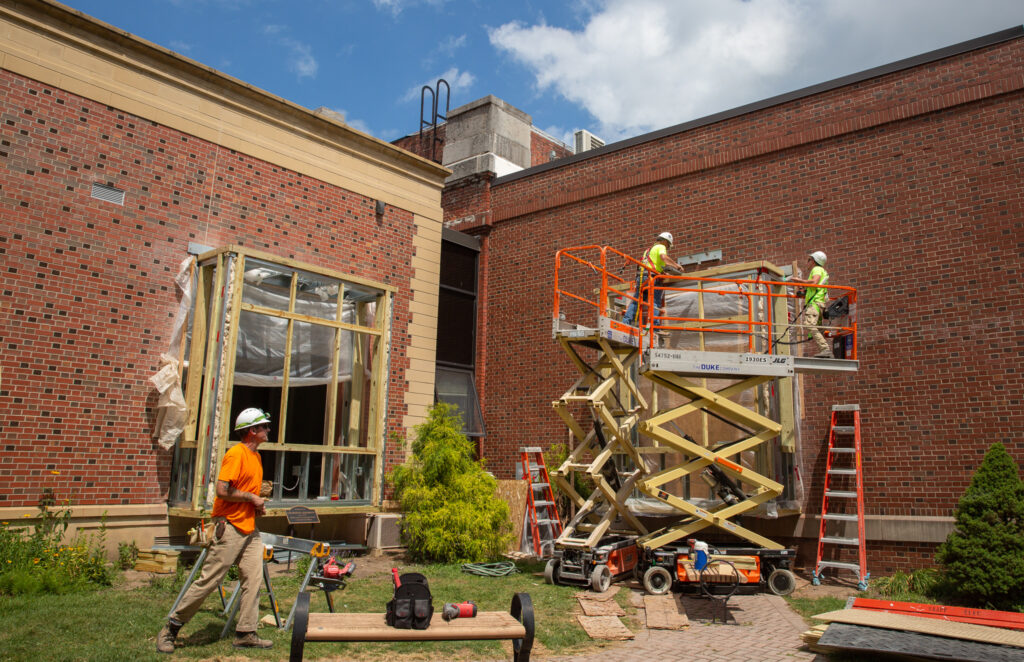 ---
Phase One: Children's Room Renovations
Children's Room Renovations: Construction is now complete for Seymour Library's Family Space!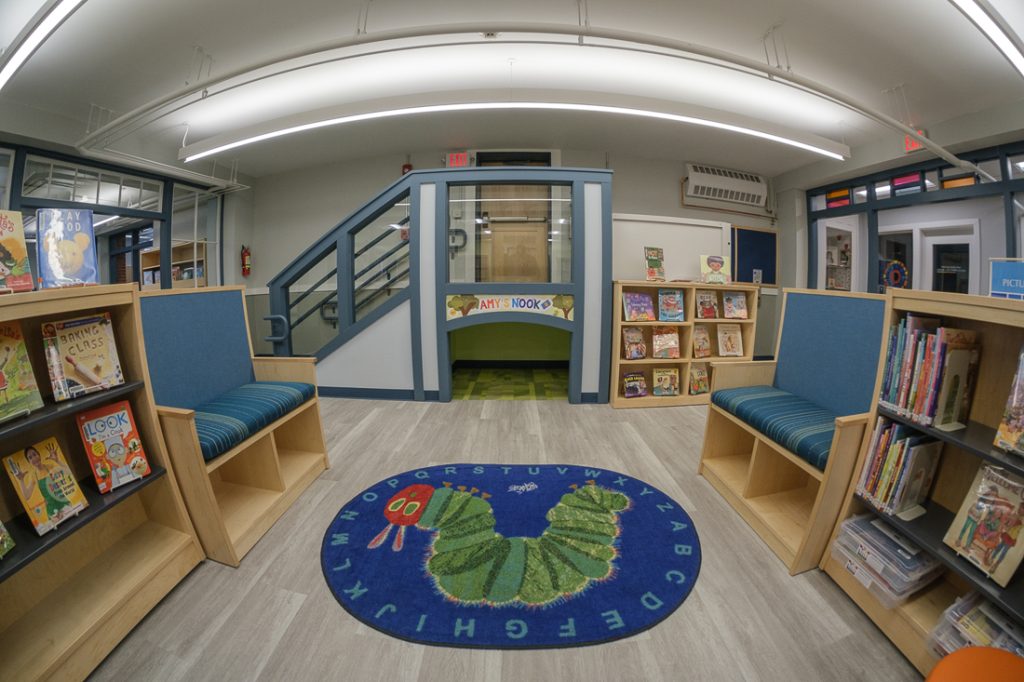 Phase One: Children's Room Renovations
Our Goal:
To create a space where families can connect, explore, and learn together.
About the Project:
Seymour Library's Children's Room is at the heart of the library and our community. Over 100 years of storytimes have taken place at the 176-178 Genesee Street location, where the library moved to in 1903. A century later, the library offers families more than just storytimes, with hands-on interactive programs, connections to local community groups, and engaging resources like learning backpacks, science and technology tools, games, and more.
To meet the needs of our 21st-century families, and to continue to expand our collections and programs, the current Children's Room space, which was last updated in 1972, needed to be reimagined. The library board, director, and staff worked with the design and planning firm Butler Rowland Mays Architects, LLP, to develop a plan based on feedback from the 2018 community discussions. The Children's Room renovations, scheduled to start in March 2021, was Phase One of our building improvement plan.
View the Transition in our photo gallery below: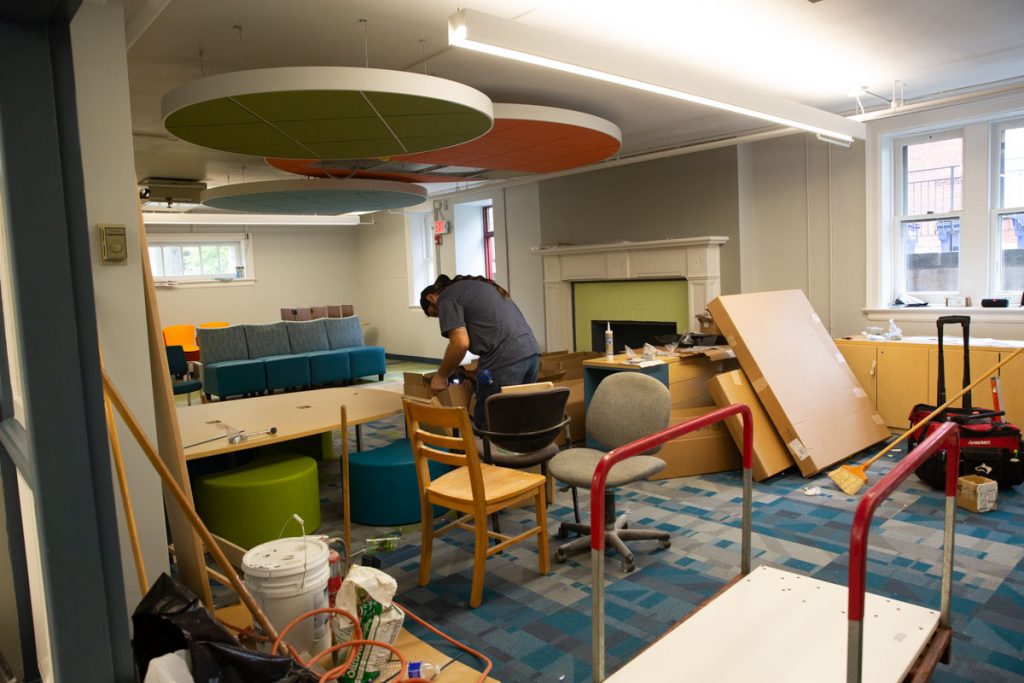 *Butler Rowland Mays Architects, LLP was chosen to oversee this renovation. The firm specializes in libraries, civic, and municipal buildings and spaces. To view their past projects, visit their website: www.brmarchitects.com