Staff Picks 2023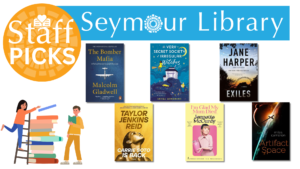 Get Caught Reading 2023
Planning your summer reading list? Here are some staff picks available at Seymour Library!
Don't forget to share what you are reading with us, or selfies from your library visit, on Facebook (@SeymourLibrary) or contact us! We would love to hear from you!
"I could not put this book down! In fact, I have been in a little bit of a reading slump, and this was just what I needed- a refreshing, read at the edge of your seat, 1990's comeback story. At age 37, Carrie Soto makes the decision to come out of retirement to defend her tennis record. The media is not rooting for her, the other players do not like her because of her no-nonsense attitude, and her knees aren't what they used to be. At the heart of this book is a beautiful story of family, letting go, and finding oneself. Carrie Soto Is Back is my favorite Taylor Jenkins Reid novel so far!" — Jackie
"It is a wonderful book about friendship, hope, and unique connections. To escape the loneliness after the passing of her husband, Tova Sullivan takes a part-time job at a local aquarium. Soon mysterious things began to happen which will change her life forever. I will not forget this book! It was magical and thought-provoking. A must-read for anyone who enjoys a heartwarming story that will stay with you for a very long time. Zoo trips will not feel the same after reading this!!" — Kathleen S.
"This is the coziest, most lovely book I have ever read! If you want a read that is sweet and humorous, this one's for you. The cast of characters is diverse, with even minor characters having a wonderful depth. While distinctly a romance book, the romance is a part of the larger "found family" narrative which puts the romance on the back burner at times to allow for tender familial moments. If you have never read a romance novel before, this is a great start! Everyone can find something to love in The Very Secret Society of Irregular Witches by Sangu Mandanna."
— Olivia
"I have previously read all of Jane Harper's suspense/ thriller novels and looked forward to her latest one, Exiles. Detective Aaron Faulk is the main character once again. He is reticent, kind and observant; causing the reader to feel somewhat "safe" despite the tragedy of a young mother disappearing without a trace during a wine festival in Australia. I particularly like the setting of Jane Harper's books; Australia is unknown to me and the reader gets a strong sense of the vastness, climate and beauty of this continent. Although the book started out at a slower pace than I usually like, the characters are well developed. Most importantly, the ending is quite a surprise!"
— Janet
"Last year, I read The Bomber Mafia by Malcolm Gladwell, a book that technically, from a publishing standpoint, worked in reverse. The Bomber Mafia was initially released as an audiobook and then published in print. For those wondering which version you should partake in, I highly recommend the audiobook, which is read by the author and feels like a podcast. As an added bonus, the author has provided online resources that complement the audiobook!
Overview: Thought-provoking and fascinating, join author Malcolm Gladwell on a journey as he weaves together World War II History, the accidental creation of a weapon that would forever change warfare, the origins of the US Air Force, and the path of destruction led by the relentless General Curtis LeMay. Only Gladwell can expertly intertwine all of these stories together to focus on the final question: "Was it worth it?"—Maureen
"As a big fan of science fiction mash-ups, Artifact Space by Miles Cameron, worked really well: You have an advanced offshoot of humanity sailing the stars but living a very Victorian lifestyle. This book has orphanage squalor, nautical trivia, trade routes, kidnappings and self-rescue of urchins and many other Victorian concepts. Sitting alongside these touchstones are space folds, railguns, (truly) alien beings, cybernetics, artificial intelligence, and the fascinating mundane routines of a space-naval lifestyle. And despite all the very Britishness of this world, this book is very not-white. Humanity is a spectrum of skin tones, cultures, religions, and genders. The plot is, essentially, a murder mystery where the giant tradeships are the ones dying, and it's up to the next ship in line – and his crew – to figure out the mystery before they fall victim to the same fate." — Drew
"I had never heard of Jenette McCurdy, but with all the hype this book has received, I had to check it out. She played Sam Puckett on iCarly. This memoir, I'm Glad My Mom Died, is about Jenette's childhood in the entertainment business and her relationship with her mother, who was mentally and physically abusive. Jenette was pushed into show business at the age of 6, and was robbed of her childhood. Mom constantly monitored her weight, which led to problems with anorexia and bulimia. Jenette was expected to be the breadwinner of the family! I've read a lot of similar memoirs, everyone has been interesting, but disturbing. Having a "stage mother" was common in early Hollywood, but you would think it was a thing of the past. I was not familiar with eating disorders, and this book made me see how debilitating they are to a person's mental and physical health." — Chris
Plus a few more staff favorites:
If The Shoe Fits by Julie Murphy
Delilah Green Doesn't Care by Ashley Herring Blake
Ugly Love by Colleen Hoover
The Seven Husbands of Evelyn Hugo by Taylor Jenkins Reid
The Giver of Stars by Jojo Moyes
Our Missing Hearts by Celeste Ng
Tomorrow, and Tomorrow, and Tomorrow by Gabrielle Zevin
People Person by Candice Carty-Williams
Shrines of Gaiety by Kate Atkinson
The Rose Code by Kate Quinn
Counterfeit by Kristin Chen
Me by Elton John